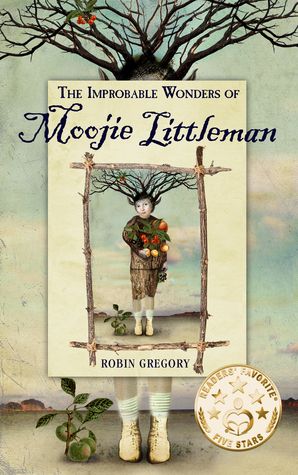 The Improbable Wonders of Moojie Littleman
Robin Gregory
Genre: Teenage/Young Adult, Magical Realism & Coming of age
Publisher: Mad Mystical Journey Press
Source: Digital ARC via instaFreebiedotcom
Pages: 310 (Paperback)
Unfinished - DNF at 38%
Synopsis:
Moojie Littleman has never been much good at controlling his spiritual healing powers. Abandoned at birth to a convent in 1892, he amuses himself by magically snuffing out candles with the blink of an eye, or by sending objects into flight with the power of his mind. When he doesn't get his way, he causes the wind to rip off the nuns' veils and flash their knickers. He is not much good at being part of a family either.
Adopted before his first birthday, his parents soon realize that he cannot walk or talk or learn like most children, and he has a whopping temper. When Moojie is eight years old, he performs a healing miracle, and also loses his mother to a freak accident. His disapproving father sends him to live at St. Isidore's Fainting Goat Dairy with his grandfather, and then disappears.
Moojie's outcome lies in the balance as he strikes up a forbidden friendship with an otherworldly clan of outcasts who call themselves the Light-Eaters. When a natural disaster strikes, Moojie must decide whether to escape through a portal into another universe with the clan and the girl he loves or save the only family he has, therefore fulfilling a surprising destiny.
What I thought
:
I loved the eye catching beautiful cover for this one and thoroughly enjoyed the first few chapters. The characters were well penned and an intreaguing plot-line looked promising. I prepared myself for full immersion into Moojie's magical realm.
Moojie's character developed from being a disabled and weak child into a more mature, much stronger individual drawing strength from his weaknesses. At about the 100 page mark the narrative seemed to lose its way becoming disjointed and began to drag. Conversations between the Light-Eaters and Moojie I found perplexing and rather irritating. I didn't 'get' the Light-Eaters...either what they were or what their purpose was, and quite frankly I felt alienated to such an extent that I lost interest in reading any further.
It maybe that had I persevered with the story I would have been rewarded with a truly magical fantastical adventure just as the majority of readers say they had. However due to my lack of involvement with certain characters and the puzzling elements of the storyline I aborted my reading of it around 38%.
Disclaimer
: I'd like to thank the author for providing me with a complementary digital copy for my honest thoughts on this book. Although not entirely to my liking I believe it will be a real treat for other readers.
The Improbable Wonders of Moojie Littleman
is
Robin Gregory
's debut offering and although I didn't finish reading it, I did think it shows huge potential and would certainly like to see what she writes next.