The Mother A Novel by Yvvette Edwards
Genre: Fiction
Hardcover: 256 pages

Publisher: Harper Collins/Amistad (May 10, 2016)
Source: TLC Book Tours/Publisher (digital-ARC)
Synopsis
:
From the critically acclaimed author of A Cupboard Full of Coats comes a provocative novel of a mother enduring the loss of her child, illuminating some of the most important and troubling issues of our time.
Marcia's husband, Lloydie, expresses his tender love for his wife each morning by preparing a cup of tea and setting it by her bedside. This routine was part of the wonderful, secure life they had built, complete with a brilliant and handsome sixteen-year-old son, Ryan.
Then the unimaginable happens, and in a single moment Marcia is stripped clean of everything she had presumed was hers for keeps. Ryan, not the kind of boy to find himself on the wrong end of a knife, is brutally murdered. Consumed by grief and rage, she is forced to carry the weight of the family's pain. She has to assume the role of supporter for her inconsolable husband, who has distanced himself and created a secret life. She must also bridle her dark feelings and endure something no mother should ever have to experience: she must go to court alone for the trial of her son's killer, Tyson, another teenage boy. As the trial takes apart her son's life and reassembles it in front of strangers, Marcia, always certain of Ryan's virtues, finds her beliefs and assumptions challenged as she learns more about her son's death and of Tyson's life.
The Mother is a moving portrait of love, tragedy, and survival—and of the aftershocks from a momentary act of cruel violence that transforms the lives of everyone it touches.
My Thoughts
:
Marcia, 'The Mother', is forced to attend the trial of her son's killer without the support of her husband.
Lloydie, is devastated and unable to cope, or come to terms, with the death of his son. He withdraws evermore into his own solitary world, driving a wedge between him and his wife emotionally and physically.
Marcia, consumed by anger, resentment and the inability to share in each other's grief, slowly the gap between them wi
dens and the rift in their relationship looks unrepairable.
As this heartbreaking story unfolds we learn a lot about each of the characters and their backgrounds, the comfortable lifestyle of Marcia and her family compared to that of the impoverished accused, Tyson Manley, and of Sweetie his alibi for the night of the killing. I don't want to say much more about these two but boy did I feel for Sweetie. I
really
felt for Sweetie.
The Mother
is a powerful tale about a mother's loss of her 17 year old son who, after football practice one evening, is stabbed to death. The events are narrated in the present tense through Marcia's voice which has an incredibly intense, raw quality. I instantly felt a connection with her and was compelled to listen to what she had to tell me. Marcia recalls banter between herself and Ryan that reminded me of the all too familiar dialogue I often have with my own teen son. It was these moments that brought these characters alive for me.
On another level this novel had a particular hold over me due to it's setting and subject matter. In 2014, my friends sister was stabbed to death on her way to work one morning, I couldn't help but feel devastated once again for my friend and family as well as for this fictionalised family in '
The Mother
'. Whilst the circumstances are not entirely the same there were enough similarities for the story to have an impact on me emotionally. Both victims were of similar ethnic background, both lived in London, both were horrifically stabbed to death for the most senseless motives. I found it difficult to continue reading initially and gave up at the 20% mark. However I'm glad to say I did go back to it after a day or so.
Yvvette Edwards
has written a truly powerful, heartbreaking story of loss, about poverty and the lack of help or support for those living in deprived areas, of the grieving process, inconsolable anger, the utter devastation caused by one solitary mindless act, and the traumatic road one must travel in order to be able to come to terms and and make sense of the world in which loved ones no longer have a place.
Authentic and 'real', with a beautiful cover I wholeheartedly recommend it.

Disclaimer
: A complimentary copy of
The Mother A Novel by Yvvette Edwards
was provided by
Harper Collins
via
TLC Book Tours
in exchange for an honest unbiased review. Thank you
TLC Book Tours
for allowing me to take part in this tour.
About Yvette Edwards
Yvvette Edwards, the author of the highly praised A Cupboard Full of Coats, has lived in London all her life. She resides in the East End and is married with three daughters and a stepson. The Mother is her second novel.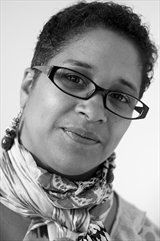 Photo by Danielle Acquah