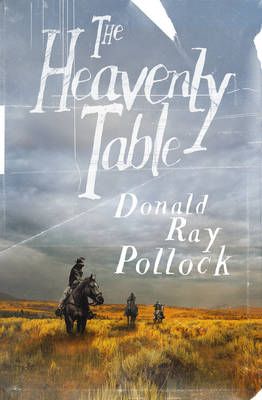 The Heavenly Table
Donald Ray Pollock
Pages: 384
Publisher: Harvill Secker
Souce: NUDGE, NB Newbooks
Genre: Historical Western Noir
Rating:
Disclaimer: I received a complementary copy of The Heavenly Table
from NUDGE NB Newbooks in exchange for my honest review.
A classically written western with a contemporary noir twist
Read in July 2016
Synopsis
:
Cane, Cob and Chimney Jewett are young Georgia sharecroppers held under the thumb of their domineering, God-struck father Pearl. When he dies unexpectedly, they set out on horseback to rob and loot their way to wealth and infamy, inspired by a lurid dime novel that only one of them can read. But little goes as planned and soon they're pursued by both the authorities and by stories that make them out to be the most fearsome trio of bank robbers and murderers around. The truth, though, is far more complex than the legend. And the heaven they've imagined may in fact be worse than the hell they sought to escape. The Heavenly Table is gritty, electrifying and weirdly funny. It cements Donald Ray Pollock's place among America's best contemporary novelists.
My Thoughts
:
My first encounter with Donald Ray Pollock was with 'Kockemstiff' and
'The Devil All The Time'
. I just love the gritty hillbilly, redneck storylines. I just love his twisted, cruel sense of humour. Peppered throughout with the worst acts of human kind, moral angst and a just a sprinkling of goodness or innocence, Pollock does not write comfortable easy reading material. So then, with 'The Heavenly Table' I knew what I was likely to be getting and was not disappointed.
Set against the backdrop of Alabama and Meade in 1917 and the beginning of America's involvement in WWI, 'The Heavenly Table' is an epic family saga with the Jewett family at the heart of the story, with Pearl a fanatically religious hardworking farmer and his sons, Cane the oldest, wisest and literate, Cob the 'dummy' and Chimney the rebellious youngest and least moral of the three sons.
We also hear about the Fiddler's; Ellsworth who has lost the family's life savings to a travelling con artist, Eula his long suffering, all forgiving wife, and Eddie their good for nothing drunk of a son.
Initial chapters give alternating perspectives of the families with a build up of characters adding their own distinctive points of view along the way. These seemingly unrelated storylines will eventually converge with an exciting explosive climax.
The Heavenly Table's titular phrase comes from a mystical drifter Pearl encounters one day, who tells him to, "welcome all the suffering that comes your way" and preaches that if he does so, one day he will "eat at the heavenly table." Well darn it if Pearl and those boys haven't suffered enough already, but Pearl believes they can and must suffer more to do whatever it takes to be worthy of sitting at that table some day. Fortunately for Pearl his suffering is soon over and the boys decide that they've had enough and want something better while they're still alive. With the influence of an old dime novel and its violent tales of 'Bloody Bill Bucket', a hero they will aspire to more and more, the boys set off on their adventurous, often disastrous, road to to seek their fortunes.
This is gritty western noir at its best with impeccably placed humour with gruesome graphic scenes, one such as a parasitic worm vacating the dead body of the Jewett boys' mother.
Pollock writes with such fluidity and emotive intensity about his deprived and often depraved characters, about the hardship and savagery in their lives, and of their grit and determination to better themselves. So fabulously drawn that at times it feels as if the Jewett boys could just ride off the pages in a blaze of dust and played out for me like a Cohen Brother's movie. Surface to say, it's deliciously dark, mean and cruel with a smattering of good old religious comeuppance and plenty of brutal black humour.
Perfect for fans of Bill Frank, Joe R Lansdale, Patrick de Witt, and because I don't think it has quite the same level of violence as in his previous books, it would make an excellent introduction for newcomers to the world of Mr Pollock who is in my opinion a cracker of a story teller.
Favourite Character/Scene: I loved all the characters and far too many scenes were memorable so I'll go with...the image of a drunken Eddie Fiddler accidentally blasting his mom's cat Pickles to Kingdom Come.
Least liked character: ohh it's got to be the big 'Bad Bob' psycho killer.