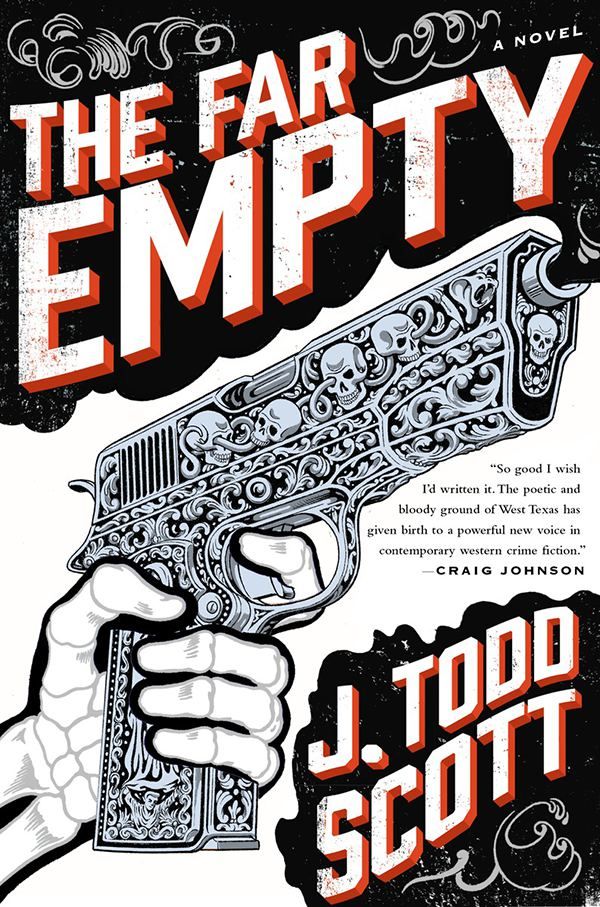 The Far Empty, J Todd Scott
Publisher: G P Putnam's Sons (9 June 2016)
Pages: 448
Source: Publisher/Edelweiss
Genre: Contemporary Western Crime Noir, Fact Based Fiction
Themes: Mexican Drug Gangs, Graphic scenes of violence, Abuse of every kind...
Rating:
Disclaimer
: A complimentary copy of The Far Empty was provided by G P Putnam's Sons via Edelweiss in exchange for an honest unbiased review.

Synopsis:
Todd Scott s "The Far Empty" is so good I wish I d written it. The poetic and bloody ground of west Texas has given birth to a powerful new voice in contemporary western crime fiction. Craig Johnson, "New York Times" bestselling author of the Walt Longmire series
In this gritty crime debut set in the stark Texas borderlands, an unearthed skeleton will throw a small town into violent turmoil.
Seventeen-year-old Caleb Ross is adrift in the wake of the sudden disappearance of his mother more than a year ago, and is struggling to find his way out of the small Texas border town of Murfee. Chris Cherry is a newly minted sheriff s deputy, a high school football hero who has reluctantly returned to his hometown. When skeletal remains are discovered in the surrounding badlands, the two are inexorably drawn together as their efforts to uncover Murfee s darkest secrets lead them to the same terrifying suspect: Caleb s father and Chris s boss, the charismatic and feared Sheriff Standford Judge Ross. Dark, elegiac, and violent, "The Far Empty" is a modern Western, a story of loss and escape set along the sharp edge of the Texas border. Told by a longtime federal agent who knows the region, it s a debut novel you won t soon forget."
My Thoughts:
So much time and effort goes into getting a book cover right so when one catches my eye I think it deserves a mention. The cover has to convey something about the book, as well as making sure it appeals to a potential reader, because if it's not right it can be the death of a book. I always tell customers (especially if they're looking at a book with a spectacular cover) that, you can tell a publisher believes in the author from the quality of the cover... So to The Far Empty... I love the cover artwork for this gritty, crime debut. It certainly gives a clue as to what the book is about...Mexican border gun culture, drug cartels with a murder or two.

If you find scenes of graphic violence abhorrent then move away from this one and if the cover is right I think you'll have done that anyway.

The Far Empty is a fictional piece based on actual violent drug related incidents and on a corrupt local sheriff from a drugs task force in Texas.
J Todd Scott, a federal agent with the DEA for many years has drawn on his experience to pen this gritty, brutal debut and with twenty years experience in the force investigating smuggling, domestic meth lads and Mexican cartels, he knows what he's writing about.

Ok so Caleb Ross, he's 17 and his father is the charismatic, influential Sheriff Stanford 'Judge' Ross and in Celeb's own voice he says this of him, 'My father has killed three men. My father . . . that f*****g monster . . . also killed my mother'.
So Caleb doesn't like his father...He even feels uneasy turning his back on him. Why would he feel such hatred for, and fear of his own father, unless of course he has reason. Caleb 'knows', that his mother wouldn't have run out on him with no word for the last thirteen months, and that his father killed her. He just cannot prove it.

Chris Cherry, after a knee injury ends his promising football career, returns to Murfee taking on the role of sheriff's deputy. His girlfriend Melissa is not so sure that its such a good move when they arrive.

When skeletal remains are unearthed out in the 'badlands' Cherry wants to do everything he can to put a name to this poor soul. However it's not going to be easy with the apathetic, unwillingness to investigate on the part of Sheriff Ross and his psychotic chief deputy Duane Dupree. After all it's probably just another dead Mexican in the desert so who cares. Well, Cherry does and so too does Caleb who's convinced it's his mum that's been lying out there all this time.

Into the mix we have, another missing person Rudy Ray a border patrol officer; the arrival of Anne the mysterious new teacher at Caleb's school; América Reynosa Caleb's Mexican friend whose brother Rudy Ray has gone missing, and Maximo a young teen 'hired Killer' for one of the drug cartels.

Each character gets their own chapter to tell us about their history and their thought process throughout the story, but its only Caleb's narrative which is in the first person, lending his voice focus and impact.

The Far Empty is dark, brutal, menacing and exceedingly violent with all of the unsavoury characters you'd expect to find involved in Mexican border gun culture, and some ignorant or down trodden towns folk living within an environment where the law is just as feared as the drug run cartels. There are some shocking and unexpected surprises along the way with one big shocker I didn't see coming.

If you read to escape reality and whats really going on in the world then steer very clear, this one really is not for you. However, I really enjoyed The Far Empty and fully believed in the depraved characters and the world within which they resided. I'm so looking forward to reading his next offering.

Perfect for fans of James Ellroy, Donald Ray Pollock, Frank Bill and Don Winslow.

Most memorable character: Maximo, frighteningly all too real, desperately unsettling as it is an all too real scenario and inescapable reality for many kids like him.

Characters disliked: The callous cruel remorseless and calculating Sheriff 'Judge' Ross; his sidekick Deputy Dupree and most of the seedy darn right despicable townsfolk.