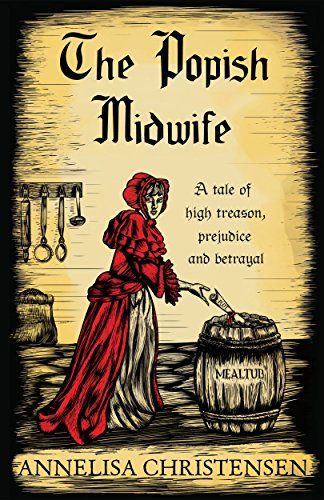 The Popish Midwife, Elizabeth Cellier
by Annelisa Christensen
Publisher: The Conrad Press (July 14, 2016)
Source: Author/HF Virtual Book Tours (digital)
Genre: Historical Fiction
Rating:
Synopsis
:
In seventeenth-century London, thirteen years after the plague and twelve years after the Great Fire, the restoration of King Charles II has dulled the memory of Cromwell's puritan rule, yet fear and suspicion are rife. Religious turmoil is rarely far from tipping the scales into hysteria.
Elizabeth Cellier, a bold and outspoken midwife, regularly visits Newgate Prison to distribute alms to victims of religious persecution. There she falls in with the charming Captain Willoughby, a debtor, whom she enlists to gather information about crimes against prisoners, so she might involve herself in petitioning the king in their name.
'Tis a plot, Madam, of the direst sort.' With these whispered words Willoughby draws Elizabeth unwittingly into the infamous Popish Plot and soon not even the fearful warnings of her husband, Pierre, can loosen her bond with it.
This is the incredible true story of one woman ahead of her time and her fight against prejudice and injustice.
My Thoughts
:
We first encounter Elizabeth as she takes over from, who can only be described as a butcher midwife attending to an unfortunate woman in labour. This startling scene is a shocking and horrifying lead into the brutal, frightening times of 17th Century England. Being a midwife wasn't the respectable vocation it is today. The only qualification required was to have been present at other births, and then, not all midwives had the best interests of their charges at heart. They often had poor regard for hygiene standards and were more intent on receiving payment for their services in order to purchase their next drink. A trusted experienced midwife could make a decent living from midwifery with the written, or 'word of mouth', testimonials from women who had been birthed by them. These midwives would be given access to places many other women would not, as with Elizabeth Cellier and her prison visits to give alms to the suffering, or gain entrance to gentle women's residences to assist in their birthing hours. All midwives were however, open to abuse from misogynistic men, and to accusations of being whores and witches.
Elizabeth Cellier is a woman with an unwavering confidence and belief in herself to do what she believes is right and will defend those who have been unjustly accused. She is also a midwife, a Catholic, and married to a Frenchman, all of which mark her out as a target for ill wishers seeking potential benefit from her downfall in such superstitious, and political conspiratorial, religious times of upheaval. Highly intelligent and articulate, after witnessing a prejudiced courtroom hearing, she uses the experience of the proceedings to her advantage when she is herself charged with treason.
Told in first person narrative with authentic dialogue, Christensen has written a fascinating, brutally honest, above all entertaining debut novel. With characters so vividly drawn, and scenes rich in atmospheric historical detail, I could almost imagine being there smelling the fear, and decaying bodies of the poor sufferers, I wanted so much to reach out to the unfortunates from within Elizabeth's imagined body. Christensen came upon the 'real life' Elizabeth Cellier's story by accident when she won some pages recording Elizabeth's trial in an auction. She felt that her story should be told and 'The Popish Midwife' is her story, and one which I highly recommend. She is currently working on an historical novel about Marie Desormeaux, another 17th Century midwife, who murdered her husband, cut him up and distributed the body parts around London. Definitely looking forward to another entertaining and gruesome, oh and educational tale from this author.
Disclaimer
: I am extremely grateful to have been given an opportunity to receive an advanced digital copy of 'The Popish Midwife' by the author to review as part of HF Virtual Book Tours.
About the Author:
Annelisa Christensen was born in Sussex, took a psychology degree at the University of Stirling in Scotland, then returned to the south to partner in a fashion design company with her childhood friend, Julia. They had fun selling to shops and in street markets all over London, but dissolved the business when children came along, both believing in putting their families first. Delighted to be offered the job of laboratory technician in the local secondary school, in which she had herself been Head Girl twenty years earlier, Annelisa simultaneously wrote a magical realism series (as yet unpublished). She wrote The Popish Midwife after falling in love with Elizabeth Cellier in some 300-year-old loose pages of a trial she bought on the internet. The more she discovered about Elizabeth Cellier, the more Annelisa wanted to share this amazing woman's story. The Popish Midwife is the result of years of research and writing.
Blog Tour Schedule