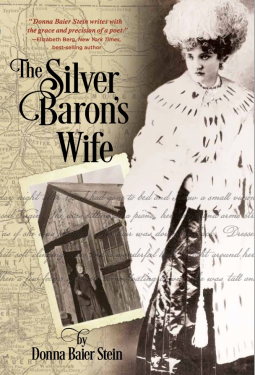 The Silver Baron's Wife by Donna Baier Stein
Publication Date: September 15, 2016
Serving House Books
Paperback 224 Pages
ISBN-13: 978-0997101065
The Silver Baron's Wife traces the rags-to-riches-to-rags life of Colorado's Baby Doe Tabor (Lizzie). This fascinating heroine worked in the silver mines and had two scandalous marriages, one to a philandering opium addict and one to a Senator and silver baron worth $24 million in the late 19th century. A divorcee shunned by Denver society, Lizzie raised two daughters in a villa where 100 peacocks roamed the lawns, entertained Sarah Bernhardt when the actress performed at Tabor's Opera House, and after her second husband's death, moved to a one-room shack at the Matchless Mine in Leadville. She lived the last 35 years of her life there, writing down thousands of her dreams and noting visitations of spirits on her calendar. Hers is the tale of a fiercely independent woman who bucked all social expectations by working where 19thcentury women didn't work, becoming the key figure in one of the West's most scandalous love triangles, and, after a devastating stock market crash destroyed Tabor's vast fortune, living in eccentric isolation at the Matchless Mine. An earlier version of this novel won the PEN/New England Discovery Award in Fiction."
My Thoughts:
Told in the first person narrative, 'The Silver Baron's Wife' flows effortlessly and with short chapters was a quick but satisfying read. Baier Stein, encompassing entries from 'Baby Doe's' diaries; using engaging prose and imaginative settings, weaves a compelling and engrossing, 'rags to riches, to rags', tragic love story.
'The Silver Baron's Wife' is a fascinating fictionalised account of the infamous Elizabeth 'Baby Doe' Tabor, a fiercely independent and determined woman who, after divorcing her first husband, a scandalous affair with a married man, and financial ruin, still manages to survive and remain true to her own convictions. A huge scandal of its time, the Tabor's were ostracised by society for their affair and subsequent marriage, and Baier Stein has written a heartbreaking but fascinating account about a truly amazing woman, and of the harsh realities of the mining lifestyle and consequences of her actions.
Fervently religious and increasing in mental instability in her ageing years, she loses sense of reality, has visions, and speaks to the ghosts of her dead husband, her mother and daughters. 'Baby Doe' dies during the freezing winter of 1935, alone in her cabin where she'd lived in poverty for 30 years. Such a tragic ending for a courageous, pioneering woman, a selfless mother and wife, who's only failing was to fall in love with a married man.
I would definitely recommend 'The Silver Baron's Wife' to fans of American historical fiction, and anyone interested in reading about the Colorado gold and silver mining era of the 1800's.
Totally compelling, and insightful read that held my interest throughout.
Disclaimer: A complimentary copy of 'The Silver Baron's Wife' was provided by the publisher via HF Virtual Book Tours in exchange for an honest unbiased review.
Praise
"At long last we get to hear Baby Doe's compelling side of the hurtful tale that made her the most hated woman in the West. Donna Baier Stein has captured young Lizzie's Doe's agency in her first marriage, as well as older Lizzie's Tabor's deep spiritual resilience during her decades of isolation. Through Stein's artistry, Baby Doe's story makes the heart ache." —Judy Nolte Temple, author of Baby Doe Tabor: The Madwoman in the Cabin
"Explosive, gripping and romantic, The Silver Baron's Wife is a story that exposes not only the scandalous marriage and perplexing life of a woman starred in the wealthy 19th century social circles while being shunned from them. It also opens a fascinating window into 19th century American social mores and Washington DC's politics.




An absorbing read about a fiercely independent woman who charted her own course only to find herself paying the price." —Talia Carner, author of Hotel Moscow, Jerusalem Maiden, China Doll, and Puppet Child




"The Silver Baron's Wife is a beautiful and absorbing novel, rich in history and vivid period detail. In exquisite prose, Donna Baier Stein captures the extraordinary and tumultuous life of Lizzie "Baby Doe" Tabor, with all of its longings, joys, and tragedies. This is a moving and memorable book." —Ronna Wineberg, author of Seven Facts That Can Change Your Life, On Bittersweet Place, and Second Language,

"With The Silver Baron's Wife, Donna Baer Stein pulls off that most difficult of novelistic feats: breathing fictional life into historic characters and situations. From the dark, unpropitious, and dismal depths of Baby Doe Tabor's biography, she mines a vein of pure silver." —Peter Selgin, author of The Inventors, Drowning Lessons, and Life Goes To The Movies




"Donna Baier Stein paints a heartfelt, poignant picture filled with loving details of Baby Doe's celebrated life that lingers long after the last page is turned." —Ann Parker, author of The Silver Rush Mystery Series




"Donna Baier Stein reveals the deeper levels of Baby Doe Tabor, the fascinating 19th century woman who caught silver mining fever, and whose fortune vacillated again and again between stunning riches and hardscrabble dearth. Having lost children, spouses, and wealth Lizzie is drawn more than ever to the invisible world, yearning to know if the dreams and visitations which have guided her life are real. With sumptuous, tactile prose, rich historical detail, and an evocative recreation of the American West, The Silver Baron's Wife excavates the legend of Elizabeth McCourt Tabor to expose a character's humanity and soul." —Diane Bonavist, author of Purged by Fire: The Cathar Heresy
About the Author
Donna Baier Stein is the author of The Silver Baron's Wife (PEN/New England Discovery Award), Sympathetic People (Iowa Fiction Award Finalist and 2015 IndieBook Awards Finalist), and Sometimes You Sense the Difference. She founded and publishes Tiferet Journal. She has received a Scholarship from Bread Loaf, a Fellowship from the Johns Hopkins University Writing Seminars, three Pushcart nominations, and prizes from the Allen Ginsberg Awards and elsewhere. Her writing has appeared in Ascent, Beloit Poetry Journal, Poet Lore, Prairie Schooner, Virginia Quarterly Review, Puerto del Sol, Writer's Digest, as well as in anthologies from Simon & Schuster and The Spirit That Moves Us Press. She is currently completing a new collection of stories based on Thomas Hart Benton lithographs.

Donna was also an award-winning copywriter whose clients include Smithsonian, World Wildlife Fund, Citrix, and other non-profit and for-profit organizations. Her website is www.donnabaierstein.com. You can also follow Donna on Facebook, Twitter, and Goodreads.