Disappearance at Devil's Rock, Paul Tremblay
Hardcover: 336 pages

Publisher: William Morrow (June 21, 2016)
Genre: Horror
Source: TLC BOOK TOURS/Publisher (D-ARC)
A family is shaken to its core after the mysterious disappearance of a teenage boy in this eerie tale from the author of A Head Full of Ghosts.
"A Head Full of Ghosts scared the living hell out of me, and I'm pretty hard to scare," raved Stephen King about Paul Tremblay's previous novel, which received widespread critical acclaim. Now Tremblay returns with another disturbing tale just as powerful and unsettling.
Late one summer night, Elizabeth Sanderson receives the devastating news that every mother fears: her thirteen-year-old son, Tommy, has vanished without a trace in the woods of a nearby state park.
The search isn't yielding any answers, and Elizabeth and her eleven-year-old daughter, Kate, struggle to comprehend Tommy's disappearance. Feeling helpless and alone, their sorrow is compounded by anger and frustration. Neither the state nor local police have uncovered any leads. Josh and Luis, the friends who were the last to see Tommy before he vanished, may not be telling the whole truth about that night in Borderland State Park, when they were supposedly hanging out at a landmark they have renamed Devil's Rock.
Living in an all-too-real nightmare, Elizabeth is wholly unprepared for the strange series of events that follow. She believes a wraithlike apparition of Tommy materializes in her bedroom, while Kate and other local residents claim to see a shadowy figure peering through their windows in the dead of night. Then, random pages torn from Tommy's journals begin to mysteriously appear—entries that reveal an introverted teenager obsessed with the phantasmagoric; the loss of his father, killed in a drunk-driving accident a decade earlier; a folktale involving the devil and the woods of Borderland; the coming zombie "pocketclips"; and a horrific incident that Tommy believed connected them all.
As the search grows more desperate, and the implications of what happened become more ominous and sinister, no one is prepared for the shocking truth about that night at Devil's Rock.
Tremblay deftly blends literary fiction, psychological suspense, and supernatural horror into an absorbing tale that illuminates a parent's darkest fears . . . and an adolescent's darkest secrets. Eerie, thought-provoking, and soul-shattering, Disappearance at Devil's Rock will haunt you long after Tommy's final journal entry is read.
My Thoughts
:
Unfortunately I did not get through this one and therefore unable to say very much about
Disappearance At Devil's Rock
except that maybe it just wasn't for me. I did try but nothing seemed to happen, I didn't connect with any of the characters and I wasn't a fan of the writing style either. I gave up at 40%.
Paul Tremblay
has amassed a huge amount of 5 star ratings and rave reviews so I am certainly in the minority here in my opinion, therefore please do not let me put you off this one and do read what others in the TLC Book Tours have to say.
Disclaimer
: Thank you to TLC Book Tours and the publisher for my copy of the book in exchange for my honest and unbiased review.
About Paul Tremblay
Paul Tremblay is a multiple Bram Stoker Award finalist and the author of the crime novels The Little Sleep and No Sleep Till Wonderland. He has served as the president of the board of directors of the Shirley Jackson Awards, and his essays and short fiction have appeared in the Los Angeles Times and numerous year's-best anthologies.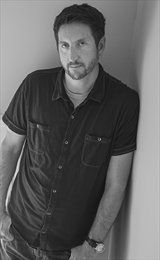 TLC BOOK TOURS STOPS:
Tuesday, June 21st: Jenn's Bookshelves
Wednesday, June 22nd: A Bookworm's World
Thursday, June 23rd: SJ2B House Of Books
Friday, June 24th: Diary of a Stay at Home Mom
Monday, June 27th: The Reader's Hollow
Tuesday, June 28th: Booked on a Feeling
Wednesday, June 29th: No More Grumpy Bookseller
Wednesday, June 29th: A Wondrous Bookshelf
Thursday, June 30th: Ms.Bookish.com
Tuesday, July 5th: A Dream Within a Dream
Wednesday, July 6th: The Year in Books
Thursday, July 7th: WildmooBooks
Friday, July 8th: Beauty in Ruins
Monday, July 11th: Ms. Nose in a Book
Tuesday, July 12th: Queen of All She Reads