Girls on Fire by Robin Wasserman
Genre: Adult (Mature YA), Fiction, Good Girl Bad Girl,
Pages: 368 (Hardcover)
Publisher: Harper (May 17, 2016)
Source: Publisher/TLC Book Tours
Rating
:
Synopsis
:
Three girls went into the woods; two came out.
It sounds like a joke, or a riddle. But it was only, would ever after be, the rest of our life.
Shortly after Halloween, 1991, the local high-school basketball star is found in the woods near Battle Creek, Pennsylvania, with a bullet in his head and a gun in his hand—a discovery that sends tremors through this conservative community, already unnerved by growing rumors of satanic worship in the region.
In the wake of this incident, bright but lonely Hannah Dexter is befriended by Lacey Champlain, a dark-eyed, Cobain-worshipping bad influence. Lacey forges a fast, intimate bond with the impressionable Dex, making her over in her own image—and unleashing a fierce defiance with unexpected and harrowing consequences. By turns a shocking story of love and violence and an addictive portrait of the intoxication of female friendship, Girls on Fire is an incendiary and unforgettable snapshot of girlhood: girls lost and found, girls weak and strong, girls who burn bright and brighter—and girls who flicker away.
Excerpt
:
This is not a cautionary tale about too much - or the wrong kind - of fucking. This is not a story of bad things happening to bad girls.
Welome to the final stop of the TLC Book Tour for Robin Wasserman's latest novel, 'Girls on Fire'
First off, I love the fragmented edginess of the US cover (top) which I think is indicative of the troubled girls' characters. I'm not so sure about the cover for the UK publication (above) as I don't think it says anything about the book or of who its target audience is.
Hannah is a rather nondescript, uninteresting kind of girl who meets Lacey, an intoxicatingly exciting bad girl. They form an unlikely relationship which becomes intensely obsessive and increasingly unsettling.
'
Girls on Fire
', told in alternating first person narratives is a coming of age tale in which each of the girls recount, in their own words, their perspective of the events leading up to the final confrontation. Their personal POV's are what gives the story such powerful raw energy, and impact.
Robin Wasserman
has constructed a very real and scary portrayal of troubled teens living in small town in the US during the 1990's. I certainly remember the gothic phase of the 90's, the music of Nirvana, and the obsession for teens with anything supernatural or demonic, so I, in the main, believed in the characters and their behaviour. However, there were a few hilariously 'over the top' scenes which had me chortling, 'oh come on'...'oh too much'...'how's that work then?'. I can't say anything about the scenes to which I refer due to giving away spoilers but you'll know them if you read the book. This is but a minor gripe and it certainly didn't spoil my overall enjoyment of the book.
If you have to like your main characters, or crave a happy outcome, you will be in for one hell of a disappointment and a scary unrelenting ride with this telling of sick, twisted and manipulative girls. I always remember some guy telling me when I was in my teens, 'if you girls only knew what power you held over us (men)...' yeah pretty scary now I know, but fortunately for everyone most girls don't have the self awareness or confidence to know how to use this power and by the time we realise what it is, it's gone.
Anyway back to it, with crass and vulgar language these girls are hugely unlikeable with little redeeming features. There are references to rape, sexual encounters, toxic relationships, heaps of profanity, teen angst, and of course lots of bad behaviour throughout.
At times I did feel too old for what I perceived to be a YA novel. It felt perverted and voyeristic to be reading a confessional piece, however Wasserman reeled me in until I was hooked and unable to get free, until I was fully invested in the girls and their chaotic world, and until I reached the highly sensational conclusion.
The target audience, to my surprise, is the adult market and not YA. For me '
Girls on Fire
' didn't quite have the maturity of writing style and was at times reliant on coincidence and a certain amount of belief suspension for a successful crossover to an adult audience. Younger readers may not question the scenarios but most adults almost certainly would.
That gripe out of the way, I thoroughly enjoyed '
Girls on Fire
' an intensely twisted, well written compelling story and one I'd definitely recommend. I will be taking a look at
Robin Wasserman
's previous YA novels on the back of this one.
Disclaimer
: Thank you to the publisher and
TLC Book Tours
for providing me with a complimentary copy of
Girls on Fire
in exchange for an honest unbiased review.
About The Author:
Robin Wasserman is a graduate of Harvard University and the author of several successful novels for young adults. A recent recipient of a MacDowell fellowship, she lives in Brooklyn, New York. Girls on Fire is her firs novel for adults.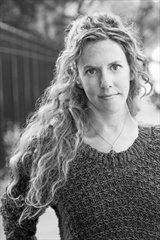 Tour schedule:
Tuesday, May 17th: Cerebral Girl in a Redneck World
Wednesday, May 18th: Jenn's Bookshelves
Thursday, May 19th: Book Hooked Blog
Friday, May 20th: A Bookish Way of Life
Monday, May 23rd: No More Grumpy Bookseller
Tuesday, May 24th: 5 Minutes For Books
Wednesday, May 25th: Thoughts On This 'n That
Thursday, May 26th: Booksie's Blog
Monday, May 30th: Ms. Nose in a Book
Tuesday, May 31st: The Book Diva's Reads
Tuesday, May 31st: A Soccer Mom's Book Blog
Thursday, June 2nd: Ageless Pages Reviews
Monday, June 6th: Lilac Reviews
Monday, June 6th: Booksellers Without Borders
Monday, June 6th: From the TBR Pile
Tuesday, June 7th: StephTheBookworm
Wednesday, June 8th: A Book Geek
Thursday, June 9th: SJ2B House Of Books